Episodes List
Ep.1

Unaired Pilot
Air Date:
Sam is about to graduate from college and has an interview set up to join one of the most prestigious law schools in the country. His brother Dean, whom he has not seen since he went to college, shows up in the middle of the night and tells him their father is missing while on a hunting trip. Leaving his girlfriend behind to find their dad, Sam joins Dean in an effort to find their father in a little town called Jericho, where unmarried men disappear without a trace.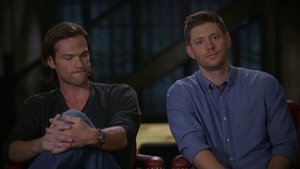 Ep.2

A Very Special Supernatural Special
Air Date: 2014-10-06
This one-hour special takes a behind-the-scenes look at the past nine seasons of the hit drama about the thrilling and terrifying journey of the Winchester Brothers. The stars and producers share stories and clips of their favorite memories, monsters, demons, and angels from Seasons 1 through 9 and tease the upcoming action fans can expect in Season 10. Interviews include series stars Jared Padalecki (Sam Winchester), Jensen Ackles (Dean Winchester), Misha Collins (Castiel), and Mark Sheppard (Crowley) along with series creator Eric Kripke and executive producers Robert Singer and Jeremy Carver.
Ep.3

Supernatural Theatre: Staging the 200th Episode
Air Date: 2015-06-29
This documentary goes behind the scenes with cast and crew during production of the 200th episode.