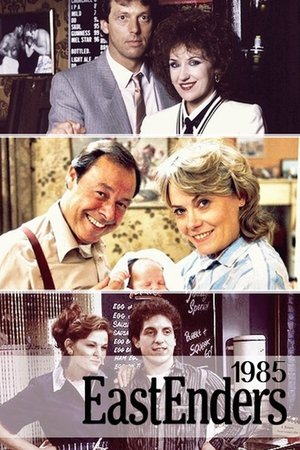 Episodes List
Ep.1

Tue 19 Feb, 1985
Air Date: 1985-02-19
The whereabouts of a missing elderly resident of Albert Square is revealed. Arthur and Pauline have a secret that they won't be able to keep for long. There is trouble in the Queen Victoria pub.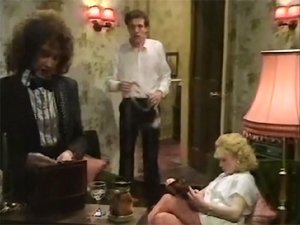 Ep.2

Thur 21 Feb, 1985
Air Date: 1985-02-21
It's Den and Angie's wedding anniversary. Pauline and Arthur's secret is a secret no more. After Reg's death, the police starts investigating it as a murder.
Ep.3

Tue 26 Feb, 1985
Air Date: 1985-02-26
The police conducts interviews about Reg's murder. Dan has to admit that he was with his mistress at the time of the murder. Ali and Lou are both lucky at games of chance.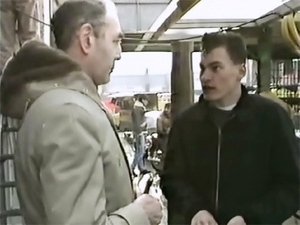 Ep.4

Thur 28 Feb, 1985
Air Date: 1985-02-28
Sue tries to get Tony to participate in a money making scheme. Mark is broke and tries to steal from Dr. Legg. After Lofty and Angie kiss in public, Dan is pissed and threatens Lofty.
Ep.5

Tue 5 Mar, 1985
Air Date: 1985-03-05
Lou is made an offer she finds easy to refuse and there is a new arrival in the Square.
Ep.6

Thur 7 Mar, 1985
Air Date: 1985-03-07
Detective Sergeant Rich questions Mark about a German badge that he sold to Lofty, which belonged to Reg Cox.
Ep.7

Tue 12 Mar, 1985
Air Date: 1985-03-12
After Ali apologizes to Dan, Ali is allowed again to enter the 'Vic'.
Ep.8

Thur 14 Mar, 1985
Air Date: 1985-03-14
Pete helps Den to get a night off from Angie, so that Den can use this excuse to see his mistress.
Ep.9

Tue 19 Mar, 1985
Air Date: 1985-03-19
After Nick sells some stolen goods to Kevin, Det. Sgt. Rich finds out about it. Angie finds out that the story about the Bentley Den used to get the night off is not true.
Ep.10

Thur 21 Mar, 1985
Air Date: 1985-03-21
Saeed's shop has been broken into, but he refuses to let the police handle it. Ali get's mugged and beaten up.
Ep.11

Tue 26 Mar, 1985
Air Date: 1985-03-26
Citizens of the Square take matters into their own hands.
Ep.12

Thur 28 Mar, 1985
Air Date: 1985-03-28
Nick disappears when the police uncover new evidence.
Ep.13

Tue 2 Apr, 1985
Air Date: 1985-04-02
Ethel babysits for Mary with frightening results.
Ep.14

Thur 4 Apr, 1985
Air Date: 1985-04-04
Mary is in a panic and everyone joins the search. Den cements plans for his holiday and competition between Michelle and Sharon for Kelvin's affections heats up. Pete is unhappy with Ian's career plans.
Ep.15

Tue 9 Apr, 1985
Air Date: 1985-04-09
Mary is unwell and people are starting to notice. Ange and Den are worried about the Vic's bottom line, but they can't agree on how to boost business. Ange eventually sends Den off to check out a strip act. Pauline leads Naima astray, Debbie upsets Mary and Ian finally snaps.
Ep.16

Thur 11 Apr, 1985
Air Date: 1985-04-11
Nick is on the news. Lou has come around to the idea of a holiday and Den is determined to get away to Spain for a week. Naima and Saeed are getting along better. Dr Legg tries to help Mary get better accommodation, and finds out something that bothers him. Lou comforts Ian.
Ep.17

Tue 16 Apr, 1985
Air Date: 1985-04-16
Ali gets a happy surprise. Dr Legg counsels Lofty to be a better neighbour and voices concerns about the future of Albert Square. Lou's talk with Pete and Kath doesn't go the way she expected. Sue is getting fed up with all the calls for Ali at the Cafe.
Ep.18

Thur 18 Apr, 1985
Air Date: 1985-04-18
Lou is up to her old tricks, but Pete and Kath turn the tables. Lofty spends more time with Mary and Annie. Debbie and Andy start planning a campaign. Pauline and Arthur celebrate having time to themselves and Den offers Arthur a week's work while he is away.
Ep.19

Tue 23 Apr, 1985
Air Date: 1985-04-23
The kids all head back to school, some less willing than others, but Mark is still nowhere to be found. Lofty's latest purchase causes a few giggles and Ethel's first go at cooking for the Vic doesn't quite go as planned. Den is away and Ange takes the flirting with one particular customer to a new level. Saeed impressess Naima.
Ep.20

Thur 25 Apr, 1985
Air Date: 1985-04-25
Den gets caught out and Angie organises an evening out. Mary is getting desperate for money and Den tells Angie he has to spend another week in Spain. The identity of the prank caller to the cafe is revealed and Ali's latest trip to the races causes more problems for him & Sue.
Ep.21

Tue 30 Apr, 1985
Air Date: 1985-04-30
Ali is told who's been calling the cafe - but he daren't tell Sue who it is. Lou and Michelle return. Mary gets some work and it's Angie's turn to get caught out. Ethel's pies cause a stir and the Fowler's call the police.
Ep.22

Thur 2 May, 1985
Air Date: 1985-05-02
Angie decides to ban Ethel from cooking at the Vic and wants Ian to do it. Deb is in anxiety about what to serve Sayeed and Naima at the dinner she has invited them to. Lofty spends the night at Mary's. Den is due back but Tony doesn't want things to change. Ethel predicts that Mark will never come home. Sharon decides to confront Angie about her behaviour while Den has been away but Angie gives her some home truths about Den.
Ep.23

Tue 7 May, 1985
Air Date: 1985-05-07
Lou is unwell but keeping Arthur on his toes. Den arrives back at the Vic, but doesn't get the welcome he was expecting. Michelle gets a taste of her own medicine and a lie is revealed. Someone comes looking for Mary. New information gets the 'Save Our Square' committee mobilised again.
Ep.24

Thur 9 May, 1985
Air Date: 1985-05-09
Kath celebrates her birthday. The stranger looking for Mary is still hanging around. Ian's cooking is well appreciated. Michelle has started work. Lou starts doing her own research into what is wrong with her – much to the amusement of others. Sharon is upset about Den and Angie's goings ons. Ian's film night surprises everyone.
Ep.25

Tue 14 May, 1985
Air Date: 1985-05-14
Den smells a rat. The identity of the stranger is revealed. Michelle is furious at Ian and Kelvin over the 'Chaz' incident, but Kelvin's explanation placates her. Everyone finally takes Lou serious about being ill. Mary blames Lofty for being found. Den and Angie come clean with each other and Den reveals more than Angie wants to hear.
Ep.26

Thur 16 May, 1985
Air Date: 1985-05-16
Lou has shingles. Mary apologises to a relieved Lofty. Tony comes to Debbie's rescue in the kitchen. Angie and Den come to an agreement, for Sharon's sake – but will they honour it? Dinner at Debbie and Andy's opens new doors for Naima.
Ep.27

Tue 21 May, 1985
Air Date: 1985-05-21
Naima has her first driving lesson with disastrous results. Tony is upset after a visit from Angie and Den and Angie promise Sharon things are going to change. Sharon's nose is out of joint over Michelle and Kelvin seeing each other again but she refuses an invitation to dinner from Ian and seems to have other ideas. Lofty's well meaning gesture is not welcomed by Mary. Den and Angie seem to have put the spark back into their marriage.
Ep.28

Thur 23 May, 1985
Air Date: 1985-05-23
Lou wakes up screaming from a nightmare. Den is disappointed with himself. Dr Legg shares some deep concerns about Pauline with Arthur. Ian's term as the Queen Vic's latest chef looks to be coming to an end. Michelle gets a new look. Tony warns Michelle off Kelvin, at least until exams are over, meanwhile Sharon moves in for the kill.
Ep.29

Tue 28 May, 1985
Air Date: 1985-05-28
Michelle and Kelvin plan a night out in the West End, but one aspect of their plan has Andy in a tizz. Lou is still laid up. Saeed and Naima's pledge to discuss everything together hits a snag. Dr Legg throws cold water on Sharon's latest plans and Arthur "pours oil on troubled waters" when he tries to talk to Michelle about Kelvin.
Ep.30

Thur 30 May, 1985
Air Date: 1985-05-30
Sharon is in Michelle's bad books. Nothing is going right for Andy and Kelvin may have pushed his luck too far with Tony. Ali goes to see Den about a car but Debbie makes a point that will throw a spanner in the works. Lou's demands are getting everyone down and Pauline is still not getting the support she needs, leading to possibly tragic circumstances.
Ep.31

Tue 4 Jun, 1985
Air Date: 1985-06-04
An ambulance takes Pauline to the hospital. Ali and Sue try to get money for the car Naima crashed not only from her, but also from Saeed, Den and Angie! Andy's stolen bike is found by the police.
Ep.32

Thur 6 Jun, 1985
Air Date: 1985-06-06
Lou moves in with Pete and Kathy. A group of teenagers beat up Ian. Arthur doesn't like Michelle to go out with Kevin.
Ep.33

Tue 11 Jun, 1985
Air Date: 1985-06-11
Lofty helps Ali and Sue fixing their car, but gets hurt in the process. Ali wins some money and uses it for gambling. Ian wants to learn some boxing after the beating he took the other day. Lou leaves for Beales.
Ep.34

Thur 13 Jun, 1985
Air Date: 1985-06-13
Ali is bringing Sue flowers after he won some money without her knowing about his gambling. Sharon talks to her mother about going on the pill. Angie discusses this with Pauline and Dr. Legg. Ali and his brother Mehmet enter a high stakes poker game and Ali bets everything.
Ep.35

Tue 18 Jun, 1985
Air Date: 1985-06-18
Ali wins the game! Mustapha, the fourth player besides Ali, Den and Mehmet, rushes Ali with a knife but is stopped by Den and Mehmet. Ali decides to buy a new car and some gifts for Sue.
Ep.36

Thur 20 Jun, 1985
Air Date: 1985-06-20
When Sue and Ali wake up this morning they find baby Hassan dead in his bed! Dr. Legg can't do anything for Hassan anymore. Sue is in shock and Ali breaks down. The police questions the Osmans, Sue blames Ali and herself for the death.
Ep.37

Tue 25 Jun, 1985
Air Date: 1985-06-25
After Hassan's death, Sue stays at Deb's. Ali arranges the funeral and tells Dr. Legg that Sue, as a woman, is not permitted in the mosque. Lofty, with the help of Ian and Michelle, opens up the cafe for the Osmans.
Ep.38

Thur 27 Jun, 1985
Air Date: 1985-06-27
Saeed and Naima both make lists, what they are missing in their marriage. Sharon steals a bottle of Gin, and after emptying the whole bottle falls down the stairs. Ali and Sue finally start talking about Hassan's death.
Ep.39

Tue 2 Jul, 1985
Air Date: 1985-07-02
Sue goes back home with Ali, and Pete and Kathy want Lou to do the same. Lofty continues running the cafe with some help from Michelle. Mary arrives back in Albert Square, but doesn't stay in her own flat. Angie comes to a decision about the way she lives her life.
Ep.40

Thur 4 Jul, 1985
Air Date: 1985-07-04
Sue and Ali cope as best they can. Pauline misses working. Andy keeps up with his training and Michelle gives Lofty his "new look". Mary unwittingly does a favour for Saeed.
Ep.41

Tue 9 Jul, 1985
Air Date: 1985-07-09
Andy and Debbie find a new way to advertise the "Save Our Square" campaign. Sue decides to go back to work and Lou settles in at Kath and Pete's. There is more speculation about Lofty and Michelle and everyone but Ethel thinks Willy is on the nose. Ali prepares for the funeral and Angie, who is struggling to stick to her decision, gets a bit of a culture shock. Lofty gets another "new look" compliments of Michelle.
Ep.42

Thur 11 Jul, 1985
Air Date: 1985-07-11
The funeral goes ahead with everyone but Sue paying their respects. Michelle is on a money drive. Den's not sure he likes Angie's new life choice and Arthur gets on his high horse with Michelle. Saeed takes advantage of having Naima to himself again.
Ep.43

Tue 16 Jul, 1985
Air Date: 1985-07-16
Kathy's fed up and so is Saeed, leading to a whole new "cockney experience" for Saeed. Sue is still in a daze. Ethel has an admirer and Arthur takes to the launderette like a fish to water. Michelle is running herself ragged and Pete lets the cat out of the bag – to his own benefit.
Ep.44

Thur 18 Jul, 1985
Air Date: 1985-07-18
Saeed comes home and this time it is Naima's turn to take off. Den is surprised to learn what Michelle wants the money for and although she is exhausted, Michelle is still looking for more work. Lou is unconvinced by Ethel's latest reading and there are a couple of homecomings. Sue has still not talked about Hassan. Naima surprises Saeed.
Ep.45

Tue 23 Jul, 1985
Air Date: 1985-07-23
Saeed follows Naima's lead and makes a change to his look. Ali and Sue's relationship is very strained. Michelle is plagued by the green-eyed monster and Saeed is touched by it as well. Ethel gets asked out on a date. Kelvin and Ian have a business idea. Saeed has ideas of a more amorous nature, and then so does Ali.
Ep.46

Thur 25 Jul, 1985
Air Date: 1985-07-25
Michelle won't let Arthur forget his broken promise. News about Nick Cotton worries Ethel, but Dot is in complete denial. Ian has a windfall, much to Michelle's chagrin. Saeed and Naima are distracted by other matters, and don't open the shop. Ethel suffers a disappointment but later prepares for her date. Sue is depressed and Ali's frustration bubbles over.
Ep.47

Tue 30 Jul, 1985
Air Date: 1985-07-30
Michelle is still feeling hard done by, but things start to look up. Saeed gets a taste of politics. Mary is not coping. Den gives some good advice to Michelle, that he doesn't follow himself. Naima and Saeed's happiness is interrupted. Sue is still on auto-pilot and Ali turns to Lou for help in desperation. Kelvin and Ian start work on their business and Arthur gets an idea that could keep him busy. Pauline has some very important news but can't get anyone to listen.
Ep.48

Thur 1 Aug, 1985
Air Date: 1985-08-01
Everyone is excited about the latest arrival at Walford. Sue keeps trying to pretend everything is OK. Naima tells Deb about the note. Only Dot is pleased about the latest news in the Gazette. Den is back to his old ways and an epidemic appears to be sweeping Walford. Ethel goes all out for her date. Dr Legg tries out an idea to try to get through to Sue.
Ep.49

Tue 6 Aug, 1985
Air Date: 1985-08-06
Sue is doing a lot better, but Mary is having real trouble coping. There are celebrations when Pauline comes home. Angie is finding life on the wagon tough. Naima finally confronts Saeed about the note she has received and Angie catches Den out in a lie that may have far reaching consequences.
Ep.50

Thur 8 Aug, 1985
Air Date: 1985-08-08
Lou is happily giving advice when it is not wanted and Michelle gets some disappointing news. Angie and Den are still at each other but Ali and Sue are going much better. The fund-raiser goes ahead at The Vic. Debbie upsets Mary, and Naima gives Saeed some devastating news.
Ep.51

Tue 13 Aug, 1985
Air Date: 1985-08-13
Sharon tries to fill Angie's shoes while she is away. Ethel tries her hand at match making, and Lou trusts someone she shouldn't have. Mary tells Pauline some things she has been trying to hide.
Ep.52

Thur 15 Aug, 1985
Air Date: 1985-08-15
Deb and Andy are still recovering from the shock of being victims. Mary has to face the music, but has support from Pauline and Arthur. Deb gets her exam results, and Dot announces the return of 'the prodigal son' – but she is the only one happy about it. Arthur has happy news that doesn't impress Michelle. Ethel's romance hits a snag, and Andy discovers he has forgotten something very important.
Ep.53

Tue 20 Aug, 1985
Air Date: 1985-08-20
Nick is hanging around annoying everyone else while Detective Sergeant Quick hangs around watching him. Kelvin gets his school results. Den takes a stand that infuriates Dot - who is upset generally at the attitudes of others towards Nick. Angie arrives home unexpectedly.
Ep.54

Thur 22 Aug, 1985
Air Date: 1985-08-22
Michelle is depressed. Kelvin, Lofty and Ian have more problems with their knitting business. Sharon continues to sexually harass (and terrify) Lofty. DS Quick upsets Dot when he pays her another visit. Angie overhears Den talking to his mistress on the phone.
Ep.55

Tue 27 Aug, 1985
Air Date: 1985-08-27
Arthur starts his new job. Tony gets some good news. Andy has an unusual request for Debbie. Nick is really starting to feel the pressure, but very few are sympathetic. Tony and Hannah argue as usual about Kelvin, but come to an agreement to support his business aspirations. Den's latest venture has The Vic cluttered with boxes, and Sharon continues to turn up the heat.
Ep.56

Thur 29 Aug, 1985
Air Date: 1985-08-29
Angie worries about her image. Tony helps Arthur without realising it, and Dot may have the key to fulfilling Arthur's allotment dream. A visit from the council upsets Lou, while Deb is charmed by Andy's new friend. The knitting business hits another snag and Angie plays private detective.
Ep.57

Tue 3 Sep, 1985
Air Date: 1985-09-03
Angie and Den are right back to normal – at each other's throats, playing games and terrifying Lofty. Michelle is still moping around but is yet to find someone to talk to about what her real problem is. Arthur is happy growing vegetables on the allotment. Ethel is refusing to go out anywhere alone while Nick Cotton is out and about.
Ep.58

Thur 5 Sep, 1985
Air Date: 1985-09-05
Angie is having real difficulties coming to terms with the truth about her marriage, but Den seems to be enjoying watching her misery. Arthur gives Kelvin, Ian and Lofty some business advice and the author of the letter to Naima is revealed.
Ep.59

Tue 10 Sep, 1985
Air Date: 1985-09-10
Sue and Ali are back from their holiday. Tony has security concerns. Arthur is still busy selling spinach and lottery tickets, but Pete and Kath give him a hard time about pilfering from work. Lofty has become Ethel's regular escort, but ironically, Nick also turns to Lofty for help. Meanwhile, Saeed is miserable without Naima, and Mary approaches Nick for a favour. Den and all the male customers head off to the football, leaving Lofty at the mercy of Angie's fun and games at The Vic.
Ep.60

Thur 12 Sep, 1985
Air Date: 1985-09-12
Nick tries to mend bridges with Ethel. Dr Legg gets a visit from both Nick and Ali with problems they find hard to talk about, but he has some good news for the Fowler's. Tony confronts 'the rat' he catches leaving the building next to his flat. Meanwhile at The Vic, Sharon's plans to seduce Lofty go horribly wrong. Michelle finally manages to confide in someone.
Ep.61

Tue 17 Sep, 1985
Air Date: 1985-09-17
Dr Legg is upset by all the litter in Albert Square. Lou is supportive of Michelle. At The Vic, Den tries to make things up with Sharon. Meanwhile, Sharon is shocked to find out the extent of Mary's poverty. Den opens up to Tony and Saeed thinks he knows who wrote the note to Naima.
Ep.62

Thur 19 Sep, 1985
Air Date: 1985-09-19
At The Vic, Den tries to get things back to normal, but Ethel still manages to surprise him. Lou convinces Michelle to tell Pauline her news. DS Quick is back on the scene, and puts a halt to Lofty and Kelvin's retail endeavors. There is some counterfeit money going around.
Ep.63

Tue 24 Sep, 1985
Air Date: 1985-09-24
Andy is grieving and finds a couple of very cute things to distract him. Angie defies Den's wishes with regards to Nick. Pauline tells Arthur Michelle's news, but Michelle is adamant about not revealing who the other person involved is.
Ep.64

Thur 26 Sep, 1985
Air Date: 1985-09-26
The christening of 'the baby' has to be postponed due to illness. The counterfeit note finds its way back into circulation. Michelle is not at all happy about all the discussion of her situation in her absence, and comes to a startling conclusion of her own.
Ep.65

Tue 1 Oct, 1985
Air Date: 1985-10-01
Deb and Andy plan a trip. Kelvin dobs Tony in for a community project. Ali is up to old tricks. Ethel tries to do Dot and Pauline a favour. Angie and Den have dinner at Deb and Andy's. Michelle is upset that no one is listening to her and decides to make a long overdue phone call.
Ep.66

Thur 3 Oct, 1985
Air Date: 1985-10-03
Michelle makes plans to meet with the father of her baby, but who is it? Deb decides not to go away with Andy. Ethel continues to have problems at the launderette. The father of Michelle's baby is eventually revealed, and they come to an agreement.
Ep.67

Tue 8 Oct, 1985
Air Date: 1985-10-08
Nick's up to something, but what? Michelle informs others of her decision about her pregnancy, but not everyone is supportive of it. A new face arrives in Walford.
Ep.68

Thur 10 Oct, 1985
Air Date: 1985-10-10
Not everyone is happy about Simon moving to Walford. Sue has had a dream that upsets her. Michelle opens up to her gran. Arthur is feeling his age. At the Vic, Angie continues to organise the darts team and a darts competition is held. Debbie turns her attention to business. Nick is up to old tricks and gets hold of some confidential information concerning Kathy.
Ep.69

Tue 15 Oct, 1985
Air Date: 1985-10-15
Ian is put out of his own bed, but doesn't mind as much as he makes out. Pauline gets a message for Saeed, who also receives a letter from his father. Kathy is distracted and unwell. Dot's behaviour attracts attention. Simon announces he intends to stay on in Walford. A visitor to the square attracts a lot of attention.
Ep.70

Thur 17 Oct, 1985
Air Date: 1985-10-17
Dr Leggett organises to have the locks changed. Kathy and Simon have a talk about his living arrangements. Mary seems to have made a new friend in Sheena. Michelle begins telling everyone about the baby. The launderette has been robbed.
Ep.71

Tue 22 Oct, 1985
Air Date: 1985-10-22
Arthur takes the lead on the firework committee. Sheena tries to talk to Mary into doing what she does for a living. Sue finds out some home truths. Nick and Kathy come to an agreement.
Ep.72

Thur 24 Oct, 1985
Air Date: 1985-10-24
Angie plans a surprise for Den, but Den's mind is on someone else. Sheena pushes Mary to start work. Debbie is still keen on Saeed's shop, but Saeed seems to have other interests – until Andy puts a damper on everything. Angie furious over Den's deception, is cheered up by an unexpected guest.
Ep.73

Tue 29 Oct, 1985
Air Date: 1985-10-29
Ethel arrives at 11am, 2 hours early for the Christening, because she wrote down 2 one's instead of 1 one. Ali is dancing & flirting with Deb, when Andy cuts in, and Sue, who has seen the way Ali was behaving, asks him if he's enjoying himself.
Ep.74

Thur 31 Oct, 1985
Air Date: 1985-10-31
It's Halloween. Sharon's attempts at playing practical jokes keep missing the mark. Simon starts work. Dot asks Tony for help. Deb stustuns Andy with some news, but is more shocked by his reaction.
Ep.75

Tue 5 Nov, 1985
Air Date: 1985-11-05
Dot's nose is still out of joint about not being invited to Martin's christening. Angie prepares for the first 'ladies only' night at The Vic. Nick's generosity raises suspicions. Something Dot finds gets Pete concerned. Mary tries out her act in front of someone for the first time.
Ep.76

Thur 7 Nov, 1985
Air Date: 1985-11-07
Nick ups the ante with Kathy. Arthur feels compelled to ask Lofty an awkward question. Pete gets more suspicious about what is going on with Kathy. The ladies night is well attended and the final act well appreciated by most. Kath opens up to Angie and Pauline.
Ep.77

Tue 12 Nov, 1985
Air Date: 1985-11-12
Sheena thinks Mary needs a new look. Hannah and Tony have a talk about their future. Andy comes home. Mary is desperate for a babysitter, so that she can start work. Saeed comes to a decision about his future. Ian has his final training session before the big fight. Kath finally confides in Pete.
Ep.78

Thur 14 Nov, 1985
Air Date: 1985-11-14
Arthur is determined to keep Pete away from Nick. Mary has her first day of work. Cassie spends some time with Tony. Pete makes amends, and Andy comes home. A meeting is held about Nick. Lofty tries to benefit from Simon's lucky streak.
Ep.79

Tue 19 Nov, 1985
Air Date: 1985-11-19
Ian prepares for the big fight, and gets some extra training from Simon. Mary is starting to feel uncomfortable about Annie's babysitter. Arthur tries his hand at playing private detective. Nick pushes his luck with Pete. Lou's health becomes a concern. Mary tells Dot a home truth about Nick.
Ep.80

Thur 21 Nov, 1985
Air Date: 1985-11-21
Debbie thinks she knows who her obscene caller is. The plan to catch Nick out is put into action. Ian has his big fight, but does he stand a chance? Andy keeps up the pressure on Debbie.
Ep.81

Tue 26 Nov, 1985
Air Date: 1985-11-26
Pete has had enough of Nick and decides to teach him a lesson. In spite of Dr Legg's concerns, Lou refuses to go to hospital for tests. Sheena shows her true colours. Deb is left with her foot in her mouth.
Ep.82

Thur 28 Nov, 1985
Air Date: 1985-11-28
Lou is as difficult as ever. Deb and Andy continue bickering about money. Nick is given his marching orders.
Ep.83

Tue 3 Dec, 1985
Air Date: 1985-12-03
Pauline worries about Lou and calls a family meeting. Dot is livid about Nick's departure, but Pete and Kathy plan a celebration. At the Vic Dan is suspicious of everyone over a theft and Saeed continues to mope. Deb's financial situation is getting her down but she finds little sympathy.
Ep.84

Thur 5 Dec, 1985
Air Date: 1985-12-05
Pauline prepares for an important visitor. Deb and Andy's relationship continues to deteriorate. The Vic's ladies darts team heads off to compete, much to Dan's chagrin. Annoyance turns to fury though, when Angie goes AWOL.
Ep.85

Tue 10 Dec, 1985
Air Date: 1985-12-10
A former resident returns to Walford and solves a mystery for Deb. Angie and the car are worse for wear in the morning. Dot is feeling abandoned. Annie gets some new clothes.
Ep.86

Thur 12 Dec, 1985
Air Date: 1985-12-12
Preparations for Lou's return continue, and provide some entertainment. More money seems to have gone missing at the Vic. More of Saeed's activities are revealed. Ethel gets into the Christmas spirit.
Ep.87

Tue 17 Dec, 1985
Air Date: 1985-12-17
Lou arrives home - but how will she take the changes? Ali and Sue's homeownership plans fall short. Andy surprises Deb and gets more than he bargained for. Lofty and Kelvin come up with a new idea for their business. Tony gets some unwelcome news. Angie almost has a brush with the law.
Ep.88

Thur 19 Dec, 1985
Air Date: 1985-12-19
Dot is on the warpath and Angie is jumpy. Andy seeks a special Christmas bonus. Lou finally settles in to her new room. A depressed Saeed begs for Pauline's help. A cheerful Tony extends the hand of friendship to Dot, but his mood is quick to change after speaking to Cassie. At the Vic, Dan is furious to discover that more money is missing.
Ep.89

Tue 24 Dec, 1985
Air Date: 1985-12-24
Naima agrees to meet with Saeed. Lou is still having difficulty adjusting to her limitations. Dot seems to be feeling better and everyone is getting into the Christmas spirit. Deb loves her Christmas present from Andy. Angie decides to come clean.
Ep.90

Thur 26 Dec, 1985
Air Date: 1985-12-26
It is Boxing Day and there are more than a few sore heads. At the Vic, the missing money turns up. Naima and Saeed finally talk things out. Lou's decorative outhouse is the talk of the town. Mary upsets Sue and Ali when she stands firm on the new babysitting arrangements. Tony is shocked by an unexpected visit from Cassie.
Ep.91

Tue 31 Dec, 1985
Air Date: 1985-12-31
Michelle, Pauline and Arthur have separated and are scouring the streets of Southend showing pictures of Mark to everyone they see. It is a cold damp day and they are looking miserable and discouraged but trudge ahead.