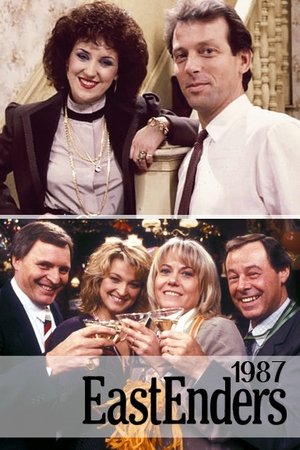 Episodes List
Ep.1

January 1, 1987
Air Date: 1987-01-01
The New Year begins badly for Sharon who finds a crasher in her bed and then is stalked while walking through the garden. After a night of drinking, Ian and Wicksy sleep on Lofty's sofa and Michelle wakes them early the next morning with her typing and then kicks them out. Ian stumbles home and into his bed where Sharon is sleeping. She lets out a scream which wakes everyone else. Ian claims he forgot that Sharon had taken over his bed, but she still looks at him like she thinks he is a sex maniac. Angie leaves for an early morning walk over by the pub where she stops and watches the upstairs window until Den appears at the window and closes the curtain when he sees her below. Angie and Sharon are starting to feel in the way at the Beales' flat and try to help out with the housekeeping chores but Pete, trying to be the good host, forbids it. He and Den grew up together and he hopes Den and Angie will work out something but in the meantime he wants Kathy's friends to feel welcome in his home. Kathy decides to take Mehmet up on his offer to market her home-made jumpers. She gets Maude to help with the knitting for 75p an hour and Pete and Ian agree to take over the housework while she gets the business started. Michelle, who is anxious for more cash to help Arthur pay back the Christmas Club money he stole, agrees to do the sewing up on the sweaters.
Ep.2

January 6, 1987
Air Date: 1987-01-06
Pauline finally realises Arthur needs professional help. Sharon's screams from the garden soon bring Den racing to the rescue. She says there was someone lurking in the bushes and he pleads for her to stay the night at the pub. She insists on going to be with Angie so Den takes her there in his car. When Pat and Simon hear about this the next morning, they tell Lofty he shouldn't have taken no for an answer and walked Sharon home anyway. Ian asks Debbie to come out with him tonight but she tells him she had other plans. She is certainly attracting the attention of young men lately, perhaps she has taken on a new scent. Lofty is worried about the direction the marriage is headed. Between Michelle working at typing and sewing up the jumpers for Kathy and his working pub hours, there is no time for them alone together. Wilmott-Brown moves into Number 43 and invites Debbie to dinner. Naima is still upset over the £10 missing from the till. She suspects Rezaul but has no proof and the family takes his side anyway since he is a male and she is a mere girl. James tells Colin confidentally that he has the brewery contract for the Churchill campaign, strongly hinting that he has open advertising proposals. Den discovers the £3,500 gone from the joint account and his solicitor tells him there isn't much he can do about it since Angie had done nothing illegal. Then he finds out that Sharon sold his record collection to Barry!
Ep.3

January 8, 1987
Air Date: 1987-01-08
Dr Legg threatens to issue a committal order when Arthur refuses to go to hospital voluntarily. Sharon gets a letter from the supermarket about more time off (for personal reasons) but she isn't sure she wants to go back to work there. Angie tells Sharon they are mvoing into a hotel. Angie gets the divorce petition in the mail but is afraid to open it. James asks Debbie about dinner with him again and she says yes. Then she finds out from Barry that he and Colin will be there as well. Naima discovers more money, £11 this time, missing from the till and gets into an argument with her cousin when she confronts him about it. At James' dinner party, Barry chats with Debbie while Colin and James are busy in the kitchen. James did the clam chowder from a recipe he picked up in Miami. Barry and James have a mutual interest in blues music and James plays his guitar after the dinner. James announces that he is leaving the brewery in a few weeks and adds "spread his wings", when Debs asked what he is going to do. Michelle is busy typing and Lofty wants to go out for the day. But she tells him she needs the money for Arthur. Meanwhile, Arthur has locked himself in the outside lavatory. Lou says she she'd go get him out. Pauline says she might get the doctor back. Legg comes by and tries to get him out but he asks for 5 more minutes. Pete tries to talk Sharon into going to see Den, hoping that she might be the link to getting Den and Angie back together.
Ep.4

January 13, 1987
Air Date: 1987-01-13
Pauline and Michelle learn that Arthur has suffered a nervous breakdown when he goes to see Dr Blackburn. Pete is loading up his veggie van to move Angie and Sharon to the hotel. Meanwile, Angie goes to see a solicitor about the divorce. She wants to counter petition, but Finwick tells her it would take a great deal of money. Sharon goes to the YTS to ask about another job and the advisor is persuaded to help her find something with a career potential. Legg contacts Dr Blackburn, the shrink, about seeing Arhur but leaves as he is still in bed. He leaves it up to Michelle to get him to the 2 o'clock appointment and Pauline is out to shopping and then work at the launderette. Arthur gets to the appoitment and the Dr tells Michelle that Arthur needs to go into hospital. When she goes to get Arthur, he's disappeared. Two days to go until Kelvin's 18th birthday party. He starts arranging a party. Hannah and Tony plan to take him to a restaurant but he wants to have the party with just some of his mates. Kelvin invites Naima to the party. Rezaul tells Naima that the family thinks they should get married when her divorce is final.
Ep.5

January 15, 1987
Air Date: 1987-01-15
Arthur is admitted into hospital and Kelvin celebrates his 18th birthday in riotous style to the astonishment of his parents. Birthday gitfs from Sylvester and Auntie Bella arrive for Kelvin at breakfast. Hannah and Tony say they are not going to the party but they secretly plan to gate crash at midnight. Pauline gets Arthur off to hospital. He is very sad and depressed. The only words he says are "Hold my hand" first to Martin then to Michelle. Lofty and Michelle try to cheer Arthur by discussing the allotment and how they are going to get the planting started while he is in hospital. Pete puts on a suit and tie to drive him to hospital. Naima is delighted when she takes delivery of her her second-hand white Dodge van. Ian mades a cake for Kelvin's party. Kathy says the decoration is too busy. Sharon is keeping Kathy's stall. Ali is still putting up notices in the cab office about overcharging customers. After spotting Naima with her van, he also puts up a notice to hire women drivers. Simon and Lofty are on their own in the Vic and it is empty. Den is out looking for Sharon. Simon says it is because Angie is gone that business has gone downhill. Kelvin comes in to get his first legal drink, a large scotch. Lofty forgets he was now 18 but Simon remembers and is chuffed to serve him. Mary is doing business as usual in the pub and Kathy frowns when she sees money changing hands. Then she eyes Mary leaving with her "John" in tow.
Ep.6

January 20, 1987
Air Date: 1987-01-20
Sharon lets Den know a few painful home truths. After the disagreement with Michelle the night before, Lofty sleeps on sofa and cracks his glasses when he trods on them as he gets up. Ethel says she has the flu. Simon and Dot are also in the surgery waiting room. It is Dr Singh's first day and they are all shy but Dot goes in first to talk about her hot flashes. She manages to get her foot in mouth about Kelvin's birthday party and how coloureds always have parties like that. When she realises that the Doctor is "coloured", she tries to explain that he isn't plain chocolate but milky chocolate which only makes her embarrasent worse and she finally says she'll come back when the "Doctor" is there. He replies, "I'm the doctor." Mary sees Pat in the pub and asks her about some new contacts. She is broke and Pat gives her a lunch under the counter and then has a go at her about leaving Annie on her own and takes the plate away until she goes to see about her baby. Later in the café, Pat tries to talk her out of prostituion and refuses to give her any more contacts so Mary says she'll just have to find them on her own contacts then. Kathy takes a message to Den from Sharon she'll talk to him at 5.30 in the community centre. He tries to give her a new jacket but she refuses it although she does accept some money he offers her. Sharon tells him she doesn't want to see him again until the divorce is over and this is all settled. Lofty and Michelle apologise and go back to normal. Lofty tells her they should go out once a month together and she should go out once a month on her own. Michelle sends him flowers and he gives her a receipt for some earings he had Tony make for her.
Ep.7

January 22, 1987
Air Date: 1987-01-22
Dirty Den invites Jan to move into the Queen Vic with him. OzCab Five finally calls in. Mary discovers the comptition is tough in her newfound profession. Ali wants to hire Naima as a contract cabbie to protect the trade since she started giving women friends free rides in her van. When he asks her about it, she says she isn't interested. Sue still says Mehmet's overchargeing the customers is the reason business is off. Ali says that is all sorted out. OzCab 5 calls in! (he is on the roof of the cab to get radio contact and Ali asks if the cab is moving) Then he goes to Gatwick when Ali tells him to "get back quick". Then he goes to Waterloo when he complains about finding a toilet and Ali says something about putting a loo in the back of the cab. Then the cab gets towed away at Waterloo. Mary has a hooker job uptown and gets Sue to watch Mary after Pat refuses as she doesn't want to aid her prostitution. She comes back from "just down the road" all beat up but doesn't want to call the police. Pat takes her to the surgery and doesn't believe Mary's story that she was beaten up by the "Walford Attacker" and knows it was a "John". Mary confesses to Sue that the other girls beat her up for trying to approach their tricks, when she started working their patch on the market. Naima asks Tony to fix the roof on the flat they are renting. He refuses and accuses her of nicking their cab customers. Sharon is getting £20 a week allowance from Den but she is giving it all to Angie for her gin.
Ep.8

January 27, 1987
Air Date: 1987-01-27
Pauline visits Arthur in hospital and there is a mysterious drop in trade at the Vic. Naima decides to mend the roof herself and asks Tony to lend her his tools. He refuses saying it is no job for a woman. So she asks Hannah and she says "sure come on over and take your pick." She fixes the roof by putting a tile back in place and tells Debbie they should send the landlord a stiff bill. Pauline visits Arthur he is on some new pills with very bad side effects and she talks to the doctor who says they are going to take him off them. Carmel visits Mary to check on Annie to find the room is a mess and Annie is dirty. Michelle comes by later and offers to help her clear the room but Mary refuses her help and sends her off. Pat and Lofty talk about what they could do to pick the pub business up. Pat calls up some old girlfriend and invites her to bring some friends over. Lofty tries to help Kathy with the knitting and fouls up the machine. Mehmet calls and wants to pick up the jumpers at 8 Thursday morning. Then the knitting machine breaks. Tom puts up a Valentine poster in the Vic. Pat tells Sue and Tom that Mary was beat up by a geezer she picked up. Dot rushes right over to Mary to preach about the evils of selling yourself for money. Mary dashes out to have a go at Pat for telling everyone that she was on the game.
Ep.9

January 29, 1987
Air Date: 1987-01-29
Mehmet promises Ali to stop over-charging customers. It's Wednesday night and Kathy, Ian, Pete and Michelle are working frantically on the jumpers. Everyone except Kathy and Michelle fall asleep and they work through the night to finish the jumpers. Pete is up at 6 and gets Lofty up off the sofa to cover the deliveries at the pub but Den is up and they had started without him. They finish the jumpers at 7.45 except for bagging and boxing them up. Mehmet is there exactly on time at 8. Michelle goes to see Arthur in hospital telling him she is going to give him the £95 she will get for her work on the jumpers. He is a little better but sobs a lot and worries about his allotment and getting back to it some day. That night, Kathy and her knitting team are celebrating in the Vic when Ali comes in. He had been checking on Mehmet's friend, Frank, and found out the buyer of her jumpers is bankrupt and won't be paying any bills (including her jumpers) Tony and Hannah are in the pub worrying about their bills. Den catches Lofty putting money into the till and pays him back the £7 he is out. Then Den tells Pat not to invite her friends back. Ali tells Mehmet that he found him out about overcharging and he promises not to do it again. Then they go out to play cards all night. Ali asks Mehmet why Frank wouldn't let Kathy have an extension on the knitting and Mehmet doesn't answer but plans to use his commission money for another card game the next night.
Ep.10

February 3, 1987
Air Date: 1987-02-03
Ep.11

February 5, 1987
Air Date: 1987-02-05
Ep.12

February 10, 1987
Air Date: 1987-02-10
Ep.13

February 12, 1987
Air Date: 1987-02-12
Ep.14

February 17, 1987
Air Date: 1987-02-17
Ep.15

February 19, 1987
Air Date: 1987-02-19
Ep.16

February 24, 1987
Air Date: 1987-02-24
Ep.17

February 26, 1987
Air Date: 1987-02-26
Ep.18

March 3, 1987
Air Date: 1987-03-03
Ep.19

March 5, 1987
Air Date: 1987-03-05
Ep.20

March 10, 1987
Air Date: 1987-03-10
Ep.21

March 12, 1987
Air Date: 1987-03-12
Ep.22

March 17, 1987
Air Date: 1987-03-17
Ep.23

March 19, 1987
Air Date: 1987-03-19
Ep.24

March 24, 1987
Air Date: 1987-03-24
Ep.25

March 26, 1987
Air Date: 1987-03-26
Ep.26

March 31, 1987
Air Date: 1987-03-31
Ep.27

April 2, 1987
Air Date: 1987-04-02
Ep.28

April 7, 1987
Air Date: 1987-04-07
Ep.29

April 9, 1987
Air Date: 1987-04-09
Ep.30

April 14, 1987
Air Date: 1987-04-14
Ep.31

April 16, 1987
Air Date: 1987-04-16
Ep.32

April 21, 1987
Air Date: 1987-04-21
Ep.33

April 23, 1987
Air Date: 1987-04-23
Ep.34

April 28, 1987
Air Date: 1987-04-28
Ep.35

April 30, 1987
Air Date: 1987-04-30
Ep.36

May 5, 1987
Air Date: 1987-05-05
Ep.37

May 7, 1987
Air Date: 1987-05-07
Ep.38

May 12, 1987
Air Date: 1987-05-12
Ep.39

May 14, 1987
Air Date: 1987-05-14
Ep.40

May 19, 1987
Air Date: 1987-05-19
Ep.41

May 21, 1987
Air Date: 1987-05-21
Ep.42

May 26, 1987
Air Date: 1987-05-26
Ep.43

May 28, 1987
Air Date: 1987-05-28
Ep.44

June 2, 1987
Air Date: 1987-06-02
Ep.45

June 4, 1987
Air Date: 1987-06-04
Ep.46

June 9, 1987
Air Date: 1987-06-09
Ep.47

June 11, 1987
Air Date: 1987-06-11
Ep.48

June 16, 1987
Air Date: 1987-06-16
Ep.49

June 18, 1987
Air Date: 1987-06-18
Ep.50

June 23, 1987
Air Date: 1987-06-23
Ep.51

June 25, 1987
Air Date: 1987-06-25
Ep.52

June 30, 1987
Air Date: 1987-06-30
Ep.53

July 2, 1987
Air Date: 1987-07-02
Ep.54

July 7, 1987
Air Date: 1987-07-07
Ep.55

July 9, 1987
Air Date: 1987-07-09
Ep.56

July 14, 1987
Air Date: 1987-07-14
Ep.57

July 16, 1987
Air Date: 1987-07-16
Ep.58

July 21, 1987
Air Date: 1987-07-21
Ep.59

July 23, 1987
Air Date: 1987-07-23
Ep.60

July 28, 1987
Air Date: 1987-07-28
Ep.61

July 30, 1987
Air Date: 1987-07-30
Ep.62

August 4, 1987
Air Date: 1987-08-04
Ep.63

August 6, 1987
Air Date: 1987-08-06
Ep.64

August 11, 1987
Air Date: 1987-08-11
Ep.65

August 13, 1987
Air Date: 1987-08-13
Ep.66

August 18, 1987
Air Date: 1987-08-18
Ep.67

August 20, 1987
Air Date: 1987-08-20
Ep.68

August 25, 1987
Air Date: 1987-08-25
Ep.69

August 27, 1987
Air Date: 1987-08-27
Ep.70

September 1, 1987
Air Date: 1987-09-01
Ep.71

September 3, 1987
Air Date: 1987-09-03
Ep.72

September 8, 1987
Air Date: 1987-09-08
Ep.73

September 10, 1987
Air Date: 1987-09-10
Ep.74

September 15, 1987
Air Date: 1987-09-15
Ep.75

September 17, 1987
Air Date: 1987-09-17
Ep.76

September 22, 1987
Air Date: 1987-09-22
Ep.77

September 24, 1987
Air Date: 1987-09-24
Ep.78

September 29, 1987
Air Date: 1987-09-29
Ep.79

October 1, 1987
Air Date: 1987-10-01
Ep.80

October 6, 1987
Air Date: 1987-10-06
Ep.81

October 8, 1987
Air Date: 1987-10-08
Ep.82

October 13, 1987
Air Date: 1987-10-13
Ep.83

October 15, 1987
Air Date: 1987-10-15
Ep.84

October 20, 1987
Air Date: 1987-10-20
Ep.85

October 22, 1987
Air Date: 1987-10-22
Ep.86

October 27, 1987
Air Date: 1987-10-27
Ep.87

October 29, 1987
Air Date: 1987-10-29
Ep.88

November 3, 1987
Air Date: 1987-11-03
Ep.89

November 5, 1987
Air Date: 1987-11-05
Ep.90

November 10, 1987
Air Date: 1987-11-10
Ep.91

November 12, 1987
Air Date: 1987-11-12
Ep.92

November 17, 1987
Air Date: 1987-11-17
Ep.93

November 19, 1987
Air Date: 1987-11-19
Ep.94

November 24, 1987
Air Date: 1987-11-24
Ep.95

November 26, 1987
Air Date: 1987-11-26
Ep.96

December 1, 1987
Air Date: 1987-12-01
Ep.97

December 3, 1987
Air Date: 1987-12-03
Ep.98

December 8, 1987
Air Date: 1987-12-08
Ep.99

December 10, 1987
Air Date: 1987-12-10
Ep.100

December 15, 1987
Air Date: 1987-12-15
Ep.101

December 17, 1987
Air Date: 1987-12-17
Ep.102

December 22, 1987
Air Date: 1987-12-22
Ep.103

December 24, 1987
Air Date: 1987-12-24
Ep.104

December 25, 1987
Air Date: 1987-12-25
Ep.105

December 29, 1987
Air Date: 1987-12-29
Ep.106

December 31, 1987 (Episode 1)
Air Date: 1987-12-31
Ep.107

December 31, 1987 (Episode 2)
Air Date: 1987-12-31