Episodes List
Ep.1

Pre-Washed Lettuce and a Mime
Air Date: 2018-09-27
Christy has second thoughts about law school after a tough first day, and Bonnie is plagued by an upsetting dream.
Ep.2

Go-Go Boots and a Butt Cushion
Air Date: 2018-10-04
When Christy decides she doesn't need Gambler's Anonymous anymore, Bonnie vehemently disagrees.
Ep.3

Ambulance Chasers and a Babbling Brook
Air Date: 2018-10-11
Christy's demanding law professor leans on her a little too hard for support, and Bonnie's plan to trick Adam into choosing a wedding venue backfires.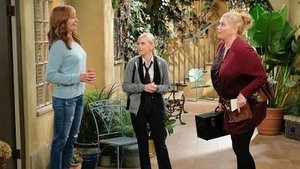 Ep.4

Big Sauce and Coconut Water
Air Date: 2018-10-18
Christy is certain that Bonnie is in over her head when she invites a freshly paroled Tammy to stay with them.
Ep.5

Flying Monkeys and a Tank of Nitrous
Air Date: 2018-10-25
When Marjorie's husband passes away, the ladies accompany her on a trip to memorialize him.
Ep.6

Cottage Cheese and a Weird Buzz
Air Date: 2018-11-01
Christy and Jill clash over a gambling debt; Bonnie's new hobby troubles Adam.
Ep.7

Puzzle Club and a Closet Party
Air Date: 2018-11-08
Christy and Wendy help Jill clean out her closet, which turns out to be a bigger job than expected; Bonnie, Marjorie and Tammy take up a new hobby.
Ep.8

Jell-O Shots and the Truth About Santa
Air Date: 2018-11-15
Bonnie pushes Christy to mend her relationship with Violet; Adam prepares for the grand opening of his bar.
Ep.9

Pork Loin and a Beat-up Monte Carlo
Air Date: 2018-11-22
Christy competes with her classmates for a prestigious internship, and Bonnie babysits Tammy following her oral surgery.
Ep.10

Flamingos and a Dance-Based Exercise Class
Air Date: 2018-12-06
Bonnie and the ladies help Tammy prepare for her first date since getting out of prison. Also, in order to take the edge off, Christy revisits one of her old vices.
Ep.11

Foot Powder and Five Feet of Vodka
Air Date: 2018-12-13
Christy's search for the perfect secret Santa gift leads her to discover Adam has been hiding something from Bonnie; Tammy looks for a job in order to avoid being sent back to prison.